V-Suite – The DSI flagship product offering forged through 15 years experience building, implementing and managing financial technology solutions for emerging markets. Unlock your digital potential through our award winning omni-channel digital banking experience. Standalone and Cloud compatible, V-Suite is designed to drive financial inclusion from the ground up. Successfully processing billions of transactions across 30 bank and wallet institutions.
Email us
We will send you a copy
Mobile Digital Services
USSD, iOS and Android platforms enabling full omni-experience UX based on enterprise architecture and supported by the full power of V-Suite
Internet Platforms
Corporate, retail & B2B Internet banking and online services. The V-Suite Internet platforms provide fully flexible, customised user experiences. 
Branchless Banking Services
Agency banking is a win-win situation for banks and customers, allowing banks to cut their costs and customers to avail banking services in a simplified manner.
Merchant banking, Services and Payments
Person 2 Merchant, P2P, B2P. Implement & manage merchants through a mature mobile merchant management system
Mobile Banking
USSD
Smart Phone
Whatsapp
Internet Banking
Corporate services
Retail services
Notification Services
Email
SMS
Bulk marketing, education and awareness
Push notifications
Agency and Branchless Banking Services
Smart PhoneSmart Phone
Ingenico POS
Android Apps for Mobile POS
Merchant banking, Services and Payments
PayGoPayGo
Directory services
eCommerce
Merchant code (USSD) & QR
Remittance Services
International Cross Border
Domestic
To existing accounts on any network
To unbanked customers
Light Host and Wallet (Core)
Treasury, reconciliation and settlement
Micro lending
Micro saving
Onboarding arsenal
Multiple digital financial enablement services
Digital sales services
Mobile based self-onboarding
USSD & Smart Phone
Universal V-Suite
Modules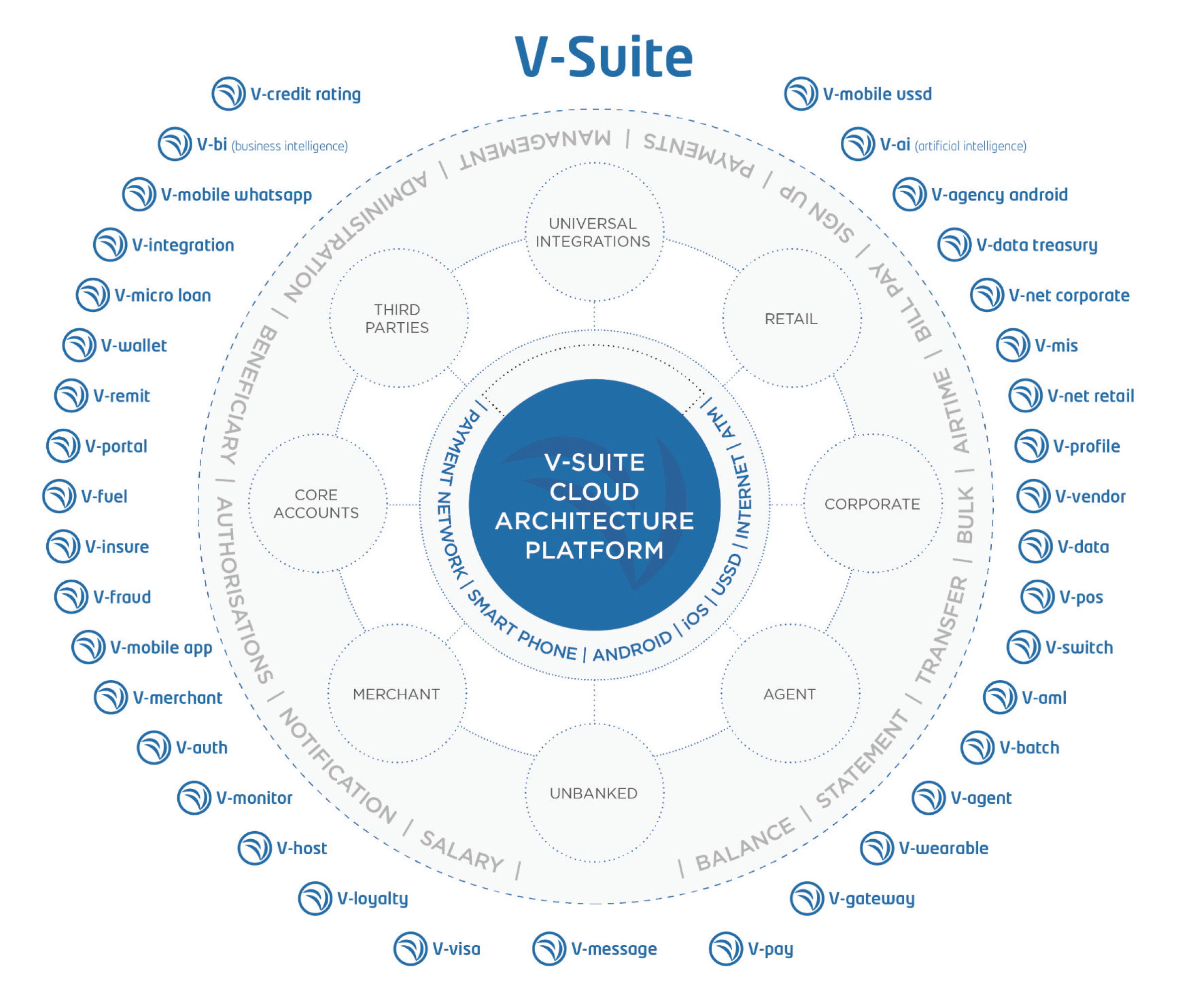 User Management
Single portal to manage users, groups and devices
Access control
Audit 
Customer support
Digital identity management
KYX
On-platform support
Integration of Smart POS and mPOS devices

Biometric authentication with fingerprint, face and Touch ID

Personal finance management

Service requests

Beneficiary management

Loyalty Management

Alerting engine

Insurance services

Customer relationship management

Scheduled and recuring payments

Digital sales process

Document management

Automated process and decision engine

Automated security services
Social Banking
Share, send, spend and track payments across social media platforms

"send to any cell phone number or email…"
Advanced reporting

Business intelligence

AML and Fraud detection
Whether your institution requires the expert services of one of the specific divisions of the DSI Group, or if you are building a new digital institution from the ground up, get in touch with us today today to learn more about the DSI DNA.
"DSI Group. The building blocks of financial inclusion".