As a Cononical Master partner the DSI Private Cloud Provisioning Service is perfectly positioned to enable your institution to unlock the incredible power of OCI compliant Cloud based infrastructure.
OpenStack and Ubuntu help you optimise infrastructure costs across all market sectors all over the world. Engineered for best price–performance. Designed to be economical in every way. Total bottom-up automation. Fully automated OpenStack deployment and operations. Product interoperability.


Cloud Based Offering
Cloud computing is currently emerging as an ever-changing, growing paradigm that models "everything-as-a-service." Virtualised physical resources, infrastructure, and applications are supplied by service provisioning in the cloud.
Why Private clouds?
A private cloud is an integral part of a hybrid multi-cloud strategy for financial services organisations. It enables financial institutions to derive competitive advantage from agile implementations without incurring the security and business risks of a public cloud.
Private clouds provide a more stable solution for financial institutions by dedicating exclusive hardware within financial firms' own data centres. Private clouds also enable financial institutions to move from a traditional IT engagement model to a DevOps model and transform their IT groups from an infrastructure provider to a service provider (via a SaaS model).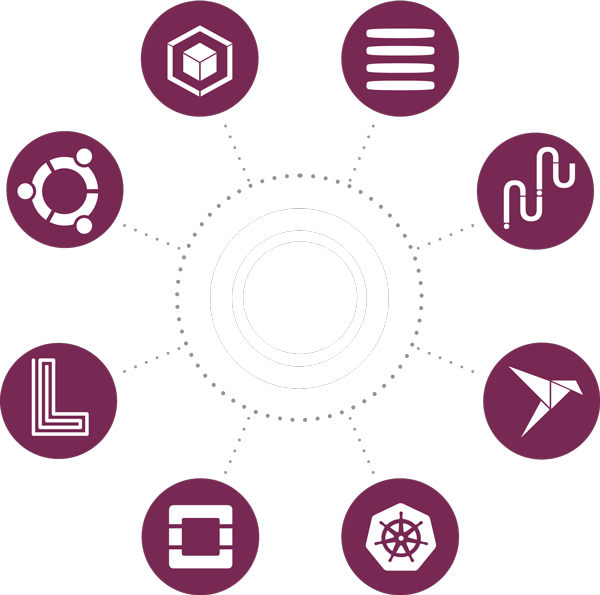 Why Canonical OpenStack
Best Enterprise Security. Best Datacenter Automation. Best Developer Experience. Best App Store. Best Devices.
OpenStack enables application portability among private and public clouds, allowing financial institutions to choose the best cloud for their applications and workflows at any time, without lock-in. It can also be integrated with a variety of key business systems such as Active Directory and LDAP.
OpenStack software provides a solution for delivering infrastructure as a service (IaaS) to end users through a web portal and provides a foundation for layering on additional cloud management tools. These tools can be used to implement higher levels of automation and to integrate analytics-driven management applications for optimising cost, utilisation and service levels. OpenStack software provides support for improving service levels across all workloads and for taking advantage of the high availability capabilities built into cloud aware applications.
Ubuntu
The new standard secure enterprise Linux for servers, desktops, cloud, developers and things
MAAS
Dynamic server provisioning and IPAM gives you on-demand bare metal, a physical cloud
Openstack
Upgrades, maintenance, support, and fully managed options for long-term low-cost infrastructure
Security
Extended Security Maintenance, Kernel Livepatch, FIPS, enterprise support and certification
LXD
The pure-container hypervisor. Run legacy apps in secure containers for speed and density
Kubernetes
App portability for K8s on VMware, Amazon, Azure, Google, Oracle, IBM and bare metal
Landscape
Updates, package management, repositories, security, and regulatory compliance for Ubuntu
Juju
Model-driven cloud-native apps on public and private infrastructure and CAAS
Snapcraft
The app store with secure packages and ultra-reliable updates for multiple Linux distros
Ubuntu Image Service
Hardened, standardised or, and customised Ubuntu images on public clouds and private infrastructure
Cloud-init
Control and customise your cloud instances on boot and during their lifecycle
Mir
Ultra-fast and lightweight Wayland compositor for secure desktop and device displays
Conjure-up
Publish and deploy predefined complex software stacks for cloud, CAAS and bare-metal
Netplan
Network abstraction for Linux to simplify and standardise complex network configuration
Multipass
On-demand build-and-test VMs for cloud devs on Windows, Mac and Linux desktops
Whether your institution requires the expert services of one of the specific divisions of the DSI Group, or if you are building a new digital institution from the ground up, get in touch with us today today to learn more about the DSI DNA.
"DSI Group. The building blocks of financial inclusion".